Argus Insurance Become 'Games Maker Partner' to the Gibraltar 2019 Natwest International Island Games
Argus Insurance Become 'Games Maker Partner' to the Gibraltar 2019 Natwest International Island Games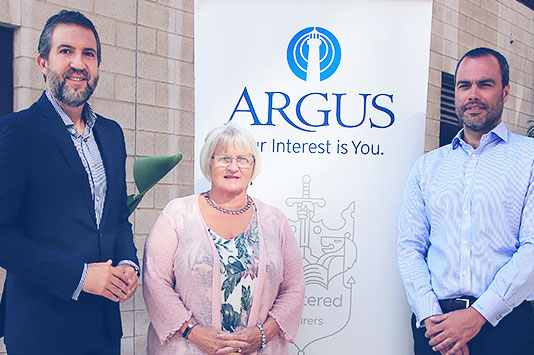 (Gibraltar, February, 2019) - The Organising Committee of the Gibraltar 2019 NatWest International Island Games is very pleased to announce that Argus Insurance Company (Europe) Limited have become the 'Games Maker Partner' for next year's event. The leading insurance firm have an established relationship with the Games at a local level, having supported Gibraltar's participants for several years.
Linda Alvarez, Chairperson of the Gibraltar International Island Games Association, has welcomed the agreement, saying: "Argus Insurance have a long-standing and committed link with the GIGA and have now assisted Team Gibraltar at various editions of the Games. We are delighted and proud to see that commitment further strengthened as we embrace the firm as a Partner that will help deliver the very best and most successful Games to date."
Those sentiments were echoed by the Head of Commercial Operations of the Gibraltar Island Games Organising Committee, Fabian Vinet, who also commented on the announcement: "We are grateful to the great team at Argus Insurance, who have been a joy to work with and who share our exciting vision for 2019."
"In July next year," continued Mr Vinet, "2,500 participants as well as several hundred officials, dignitaries and supporters will make Gibraltar their home. Her Majesty's Government of Gibraltar and indeed the title sponsors NatWest International have been excellent in their support to the organising committee, but the wider community including the private sector also have an important role to play and there is a great deal of interest among the business community in being part of the 2019 Games and sharing in their success. To that end, we have devised a range of sponsorship options that appeal to all businesses, large and small. We have already concluded several sponsorship agreements, with many more on the way, that provide valuable marketing exposure that ranges from the more traditional printed media adverts and branding at sporting venues to VIP hospitality, invites to official receptions and even medal presentation opportunities. The higher end packages, for instance, award an element of exclusivity for specific business sectors and that has been greatly welcomed by the larger firms, while smaller companies are still able to enjoy a good level of media exposure for a comparatively modest contribution."
Mr Vinet, a former Minister for Sport, concluded: "We all have fond memories of the Sunshine Games back in 1995, but next year's week-long event will take things to another level, not just in strictly sporting terms but also with regards to facilities, organisation and related cultural events. Argus Insurance and many other Gibraltar businesses will share in the success. It's been a pleasure to engage with Gibraltar's business community and I look forward to establishing relationships with many more entities to help deliver the most spectacular NatWest International Island Games ever."
Speaking on behalf of Argus Insurance Company (Europe) Limited, Chief Executive Tyrone Montovio said: "Events such as these will no doubt bring the community together and as such we are proud, as a local insurer, to once again be associated with the Games to be held next year in our home territory."