The Argus Group Sponsors Island Games XVlI Kits for Gotland Sweden
The Argus Group Sponsors Island Games XVlI Kits for Gotland Sweden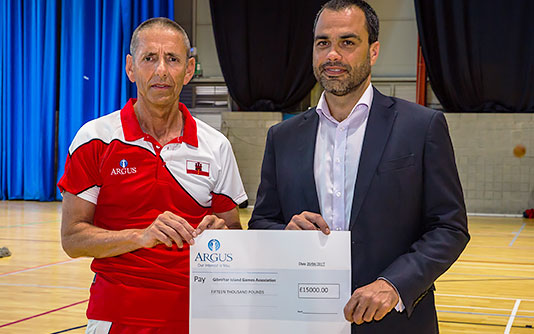 (Gibraltar, June 2017) --T he Argus Group is pleased to announce that it has kindly donated all the kits for the Gibraltar Team attending this year's XVlI Island Games in Gotland, Sweden.
Gibraltar's only insurance company with Chartered Insurer status, Argus Insurance Company (Europe) Limited, is a local member of the Argus Group, which is headquartered in Bermuda. Tyrone Montovio, General Manager in Gibraltar said: "We are extremely pleased to be associated once again with the Island Games. We are very keen to support local community activities and this event really does encompass a wide range of sports. I would personally like to wish all the teams taking part the best of luck."
The Argus donation has enabled the Team to purchase track suits which will be worn by all participants at the opening and closing ceremonies and at all their events. Argus Insurance will also provide playing kits for some of the individual teams.
Linda Alvarez, President of the Island Games Association added: "The Gibraltar Island Games Association is most grateful to the Argus Group, and in particular our own Argus Insurance here in Gibraltar, for agreeing to again sponsor the kits for the Island Games this year in Gotland, and we really hope that our team does Gibraltar proud."